2022 Carbon County Fair Grand Marshall!
Scott Thayer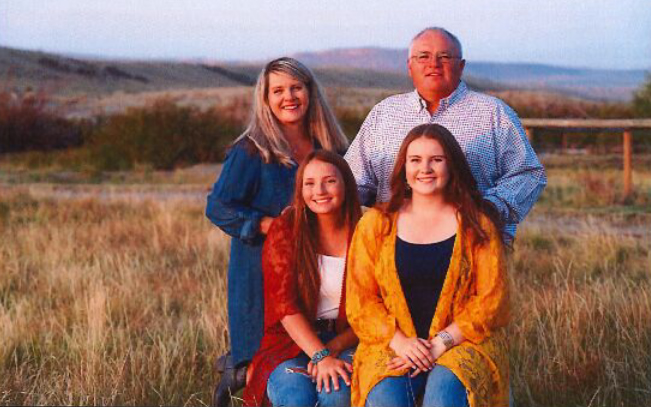 (photo) Scott and Pam Thayer, with their daughters Sydney and Darby
Scott Thayer is a native of Carbon County, a graduate of Rawlins High School and the University of Wyoming. Scott's professional career includes the FDIC in bank liquidation and supervision becoming a Commissioned Bank Examiner in Houston, Texas, Albuquerque, New Mexico, and Englewood, Colorado; along with the USDA Business and Community Programs Director in Lakewood, Colorado.
In 2005, Scott came home to Rawlins and Carbon County at RNB State Bank from 2005 through 2022 ending as Rawlins Branch President, during this time he served on the Wyoming Banker's Association Board, the Wyoming Small Business Development Advisory Board and continues today with the Carbon County 4-H Foundation Board and the Rawlins Rotary Club as well as volunteering for other boards and committees locally. This past March, Scott changed from khaki's to Carhartt's. His passion is family and friends, he is an amazing father and husband.
Scott became involved in Carbon County Fair through the 4-H program while his daughters and nieces participated in projects starting from the Open Horse Show in 2009 continuing through showing pigs, dogs, horses and steers at the county level. Along with supporting his daughter at the Wyoming State Fair with his dog, earning a Grand Champion title.
He looks forward to this new adventure in life continuing to help the county and community and seeing the Carbon County 4-H/ FFA programs continue to succeed and grow. Scott appreciates the hard work and efforts from the Com- missioners, Fair Board, Superintendents and Leaders, and the many others who contribute to the growth and im- provements of this great event which brings all of Carbon County together once a year. Thank you